Get link

Facebook

Twitter

Pinterest

Email

Other Apps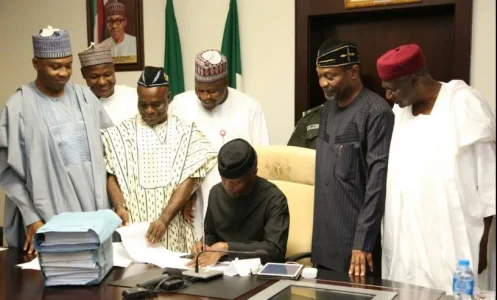 Nigeria's Acting President Yemi Osinbajo on Monday made history by signing the 2017 budget into law on order of the ailing President, Mr. Muhammadu Buhari.
Here are 10 things everyone should know about the 2017 Budget of recovery and growth as compiled by The Presidency:
1. The 2017 Budget Preparation process was a much more efficient process than the 2016 process. There was also less acrimony regarding it, between the Executive and Legislature.
2. The 2017 Budget was collated using — for the first time ever — a web-based application developed by the Budget Office of the Federation (BOF). Instead of the traditional method of hard copy submissions of budget proposals, Ministries, Departments and Agencies were asked to upload their proposals to the new budget preparation portal, resulting in a more efficient and transparent preparation process.
3. More than 4,000 staff of the MDAs were specially trained to use the new application, across multiple locations nationwide. To support the deployment of the budget portal, the Budget Office set up a Helpdesk, accessible by telephone and email, for authorised users.
4. President Buhari presented the 2017 Budget Speech to a Joint Session of the National Assembly on December 14, 2016.
5. The National Assembly passed the Budget on May 11, 2017, five months after it was submitted by President Buhari.
6. The next step, which should have been the signing of the Budget by the Executive, was delayed because of disagreements regarding some alterations the National Assembly made to the submitted document — for example the National Assembly reduced proposed budgets for a number of critical infrastructure projects (the standard gauge railway projects, the Mambilla Power Project, the Second Niger Bridge, the Lagos–Ibadan Expressway etc), and applied the difference to fund some new projects introduced by the legislators.
7. What followed were four weeks of painstaking engagement between Executive and Legislature, to resolve the differences.
8. The conclusion of the matter is that the funding deductions on those critical projects will all be restored during the course of the budget year. The leadership of the National Assembly has assured the Executive that this will be done.
9. The Executive and the National Assembly have reached an agreement to return the Federal Government to a January–December budget calendar, starting from the 2018 budget. To ensure this happens the Executive has committed to submitting the 2018 budget to the National Assembly by October 2017, and on its part the Assembly has committed to passing the budget into law before the end of 2017.
10. Budget Highlights:
a. Total expenditure of N7.44 trillion, comprising N5.08 trillion in revenues and a projected deficit of N2.36 trillion which will largely be financed by borrowing.
b. N2 trillion for capital expenditure (principally infrastructure).
c. More than N500 billion for investments in roads, and power and housing projects
d. N46 billion for Special Economic Zone Projects to be set up in each geopolitical zone.
Get link

Facebook

Twitter

Pinterest

Email

Other Apps