Get link

Facebook

Twitter

Pinterest

Google+

Email

Other Apps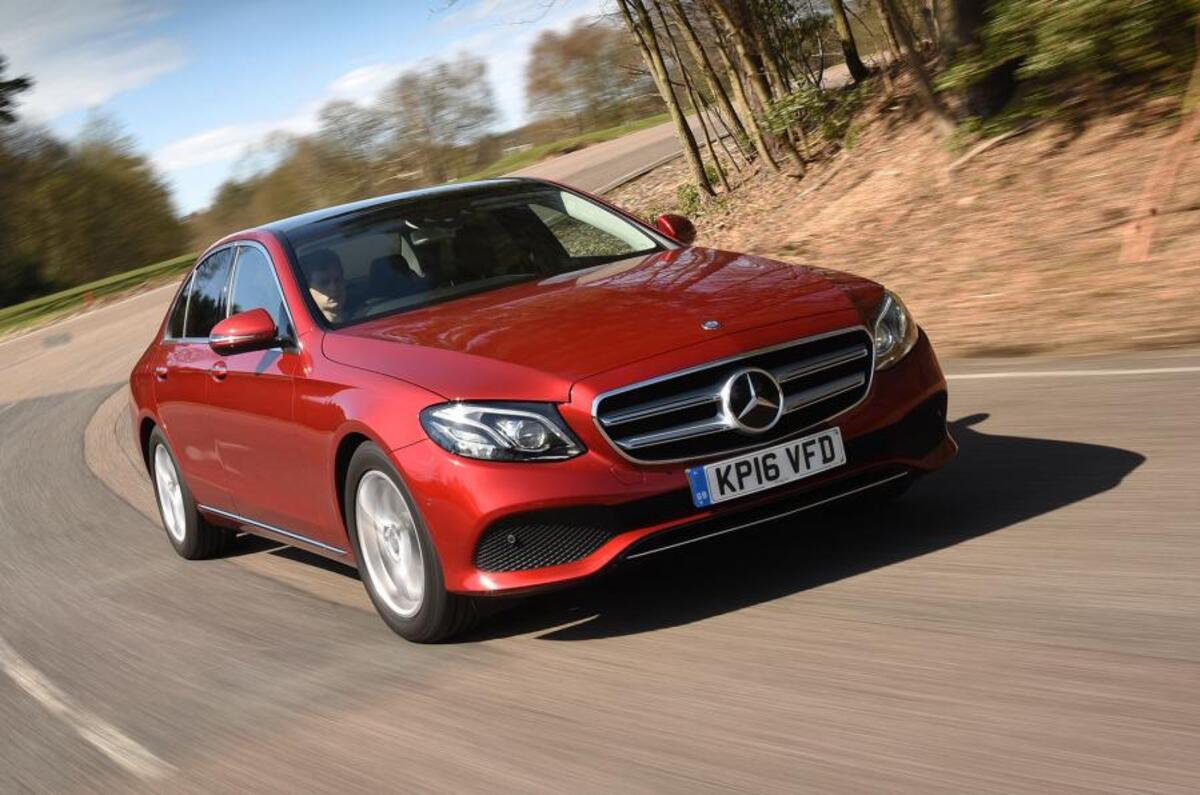 Tested for the first time in the UK, the E-Class is available in two bodystyles, as a saloon and an estate. There are also three diesel engines to choose from, with the E 200 d and
E 220 d
being the first models fitted with a brand-new 2.0-litre diesel engine, codenamed OM654, which will be adopted by most of Mercedes' smaller models and gives it some eye-catching vital statistics.

Chief tester
The E-Class feels like a car engineered to make actually driving it almost no different from being driven
Capable of accelerating to 62mph in less than 7.5sec, it has also moved from a position of relative weakness versus its nearest rivals on peak power, claimed fuel economy and CO2 emissions, to one of real strength. And given how long Mercedes has languished somewhat behind the cutting edge of four-cylinder diesel engine technology, few will have expected the change in pace.
There is also a 3.0-litre V6 diesel, a 2.0-litre petrol hybrid and a 3.0-litre V6 AMG model to choose from as well. The E-Class Estate is only available with the 192bhp 2.0-litre diesel engine.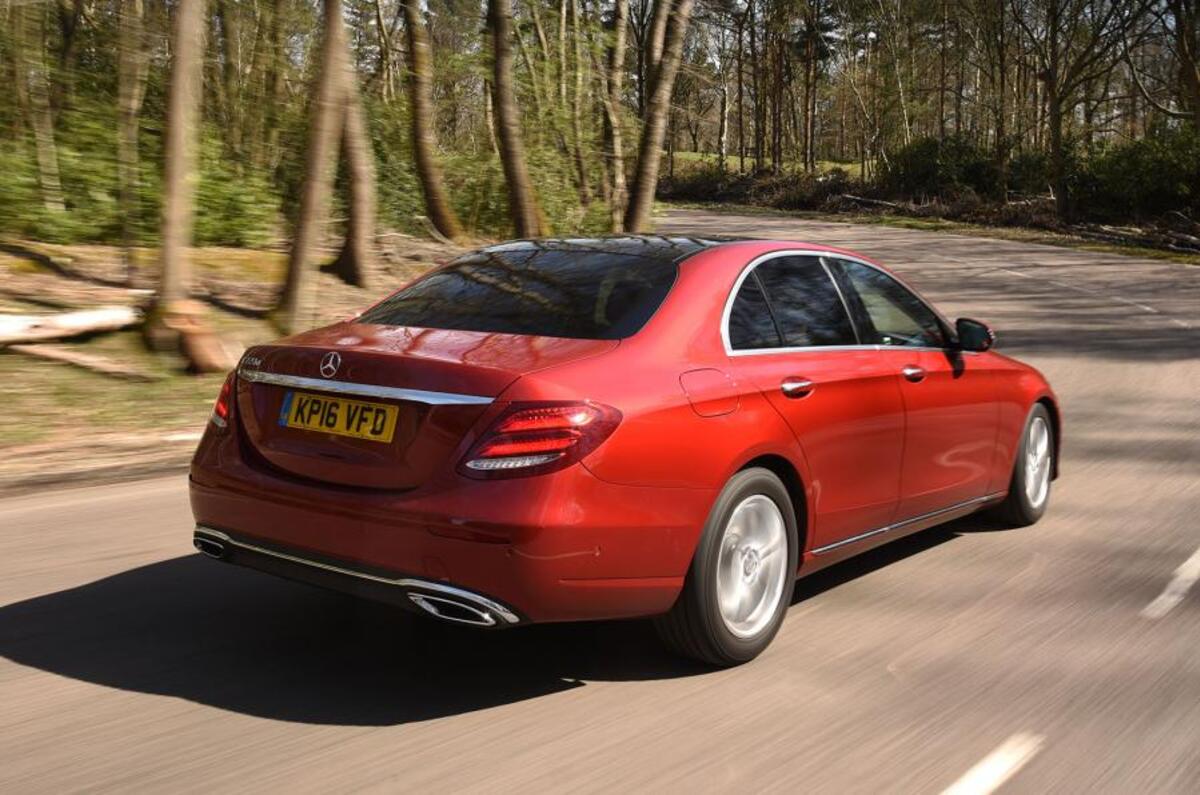 There's plenty more to report about the car: compared with its predecessor, it's bigger, lighter, stiffer and all the usual stuff that engineers spend years achieving, for car reviewers to glibly sum up in a couple of sentences. You may have read exactly how in our earlier European first drive – as well as about the quasi-autonomous driving technologies that have been fitted and the S-Class-level cabin overhaul that Mercedes has lavished. Time to find out how well it all comes across on second acquaintance.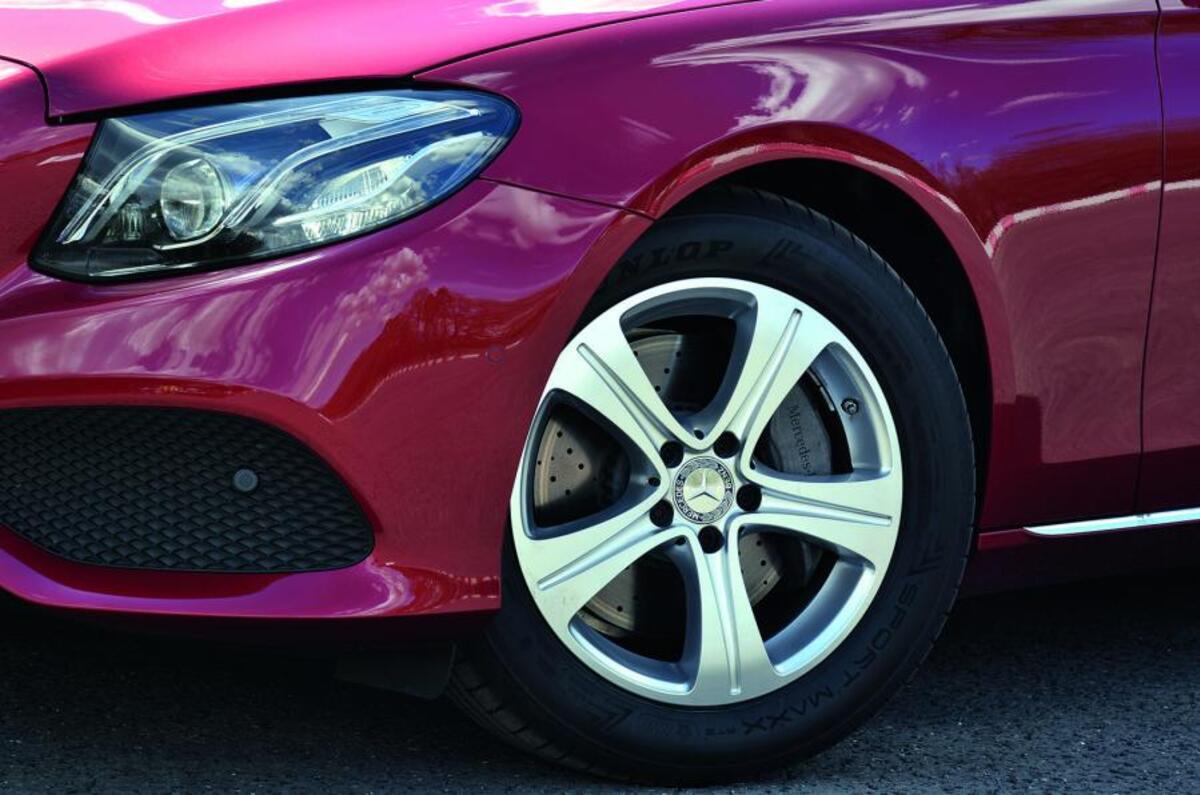 While the character of the E 220 d hasn't substantially changed, that new engine certainly makes it a better traditional laid-back Benz, as well as an undoubtedly more competitive prospect when judged against its rivals from
Audi
,
BMW
,
Jaguar
and elsewhere.
Mercedes' right-hand drive conversion is a thorough one, the car's pedals being no more offset than will be comfortable for most drivers. The driving position is more upright than some similar executive saloons, the seat set higher for a good vantage point – albeit with less of the snugly installed sporting feel of, say,
a Jaguar XF
.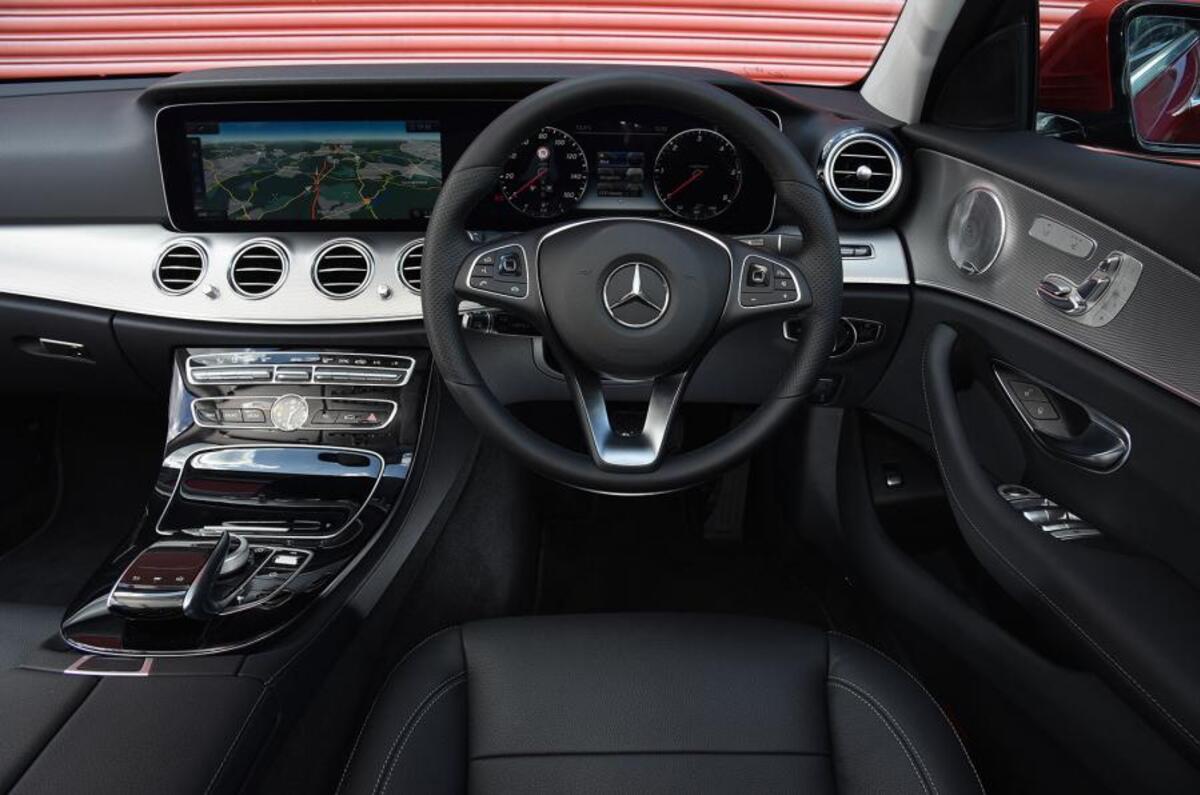 Cabin and boot space are both fairly generous, although neither is a standout asset for the E-Class. But in other respects the car's interior is exactly that. Entry-level SE-grade cars won't blow you away with their material lavishness;
Mercedes
expects you to pay extra for the car's impressive twin 12.3in LCD instrument and infotainment screens and doesn't throw in a leather-wrapped dashboard to match the standard heated leather seats unless you spend the necessary on upper-level AMG Line trim.
The entry-level SE trim comes with Mercedes' 8.4in infotainment complete with Garmin sat nav and DAB tuner, a reversing camera and cruise control. If you opt for
the E 350 d
or the hybrid E 350 e then you will get the 12.3in Comand Online infotainment, air suspension and 18in alloys as part of the SE trim.
Spec the E-Class in AMG-Line trim and expect AMG branded alloys, bodykit and decals, and electrically adjustable front seats. Those after a 'proper' AMG will have to make do with the E 43, for now, which gets more of the AMG treatment with an aggressive body kit and the 395bhp, bi-turbo 3.0-litre V6 petrol engine.
But the car's cabin mouldings and fittings look and feel solid and expensive, and they're supremely well finished. Those looking for a saloon in which to spend the kind of time, over a three-year ownership period, that other breeds of new car simply don't see will be delighted with the robustness and usability of what's on show.
Likewise, they may approve wholeheartedly of the becalmed style in which the E-Class delivers its assured, refined performance on the road. The 2.0-litre diesel is smooth at idle and quiet under part throttle, particularly so on the motorway, where its standard nine-speed automatic gearbox allows it to cruise at the legal limit at well under 1500rpm.
With so many intermediate ratios to juggle, the gearbox shifts quite early as you accelerate, keeping the rev needle well inside the engine's range of peak torque provision below 2800rpm.
Get far enough down the pedal and it will hold onto a gear up to 4000rpm and beyond – but while the car is quick for a 2.0-litre diesel of its size, the engine still doesn't rev very keenly. Fuel economy should be a selling point, with our testing suggesting that a day-to-day return of around 55mpg is achievable.
On the standard lowered comfort suspension that UK-bound SE-trim cars come with, the E-Class has a soft, gentle ride that smothers bad urban roads and motorway lumps and bumps well. Its standard wheels and tyres make little road roar, and as long as you're prepared to adopt the unhurried gait that the car so plainly favours, you'll find the car's dynamic performance relaxing and agreeable.
But if you like your business saloons with just a little bit of dynamic poise and communicative flair, you won't find the E-Class so agreeable. Not, at least, unless you upgrade to the adaptively damped sports suspension or the Airmatic springs, both of which we're yet to sample enough to speak of.
On standard suspension and 17in wheels, the E-Class's grip levels are only modest; its body control can begin to run out well inside the national speed limit on a testing road and its steering – which starts off very low-geared but picks up pace and weight quite aggressively off-centre – doesn't feel very coherent compared to the rest of the car's controls and handling responses. Although weight builds as you add lock, the rim is short on centre feel and overwhelmingly devoid of feedback. You suspect that's because Mercedes thinks E-Class drivers consider the latter an undesirable trait and would rather have a fairly light and consistently monotone-feeling wheel that's entirely free of kickback.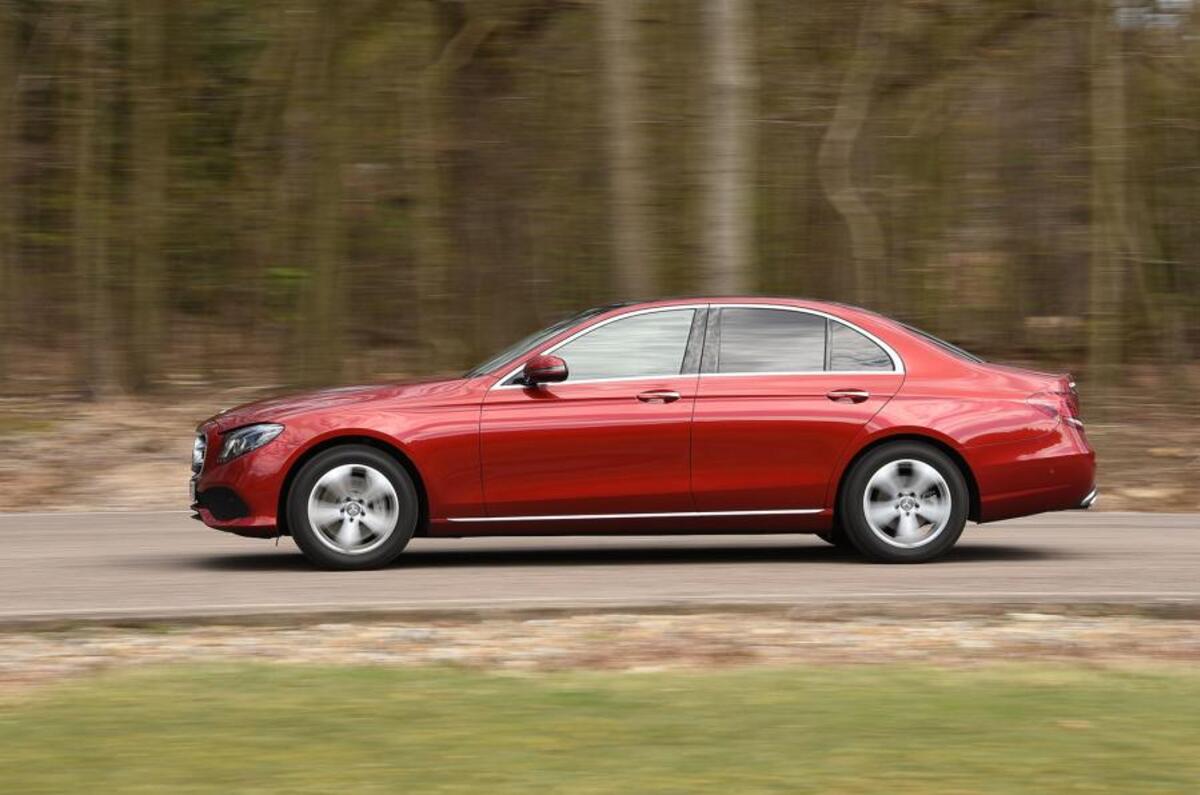 The E-Class feels like a car engineered to add so little to the stress and fatigue of the daily grind as to make actually driving it almost no different from being driven. You could get out of it after a 100-mile commute feeling almost as fresh as you got in – particularly thanks to the new Drive Pilot enhanced adaptive cruise functions, which work well. So if an upmarket interior feel, a servile and suave dynamic character and a now very competitive powertrain are enough to sell it, by all means buy.
This is now a car more clearly defined as a luxury item than ever it has been before, though – in contrast to rival saloons with a much greater sporting edge. So if you still like driving at least on parts of your weekly routine, other mid-sized executives will probably suit you better. But if you're not sure, the E-Class is well worth considering.
To find out what our sister site What Car? thought of the E-Class, take a look at the video below.
Mercedes-Benz E 220 d SE
Price £35,935; Engine 4cyls, 1950cc, turbocharged diesel; Power 192bhp at 3800rpm; Torque 320lb ft at 4500rpm; 0-62mph 5.1sec; Top speed 155mph; Gearbox 9-spd automatic; Kerb weight 1680kg; Economy 72.4mpg (combined); CO2/tax band 102g/km, 20%
Get link

Facebook

Twitter

Pinterest

Google+

Email

Other Apps