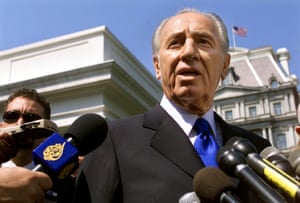 Peres, then foreign minister, speaks to the media after meeting George Bush Jr to arrange a ceasefire to end seven months of Israeli-Palestinian bloodshed in 2001. Photograph: Kevin Lamarque/Reuters
Leading political figure served twice as prime minister, once as president and won Nobel peace prize
Shimon Peres
, one of Israel's defining political figures and a Nobel peace prize laureate, has died at the age of 93,
two weeks after having a stroke
.
Peres had twice served as prime minister of
Israel
and later as the country's ninth president. He had been seriously ill on a respirator in an Israeli hospital near Tel Aviv and died after his condition deteriorated sharply.
Shimon Peres dies: global reaction to former Israeli leader's death – latest
One of Israel's defining political figures and a Nobel peace prize laureate dies at the age of 93, two weeks after having a stroke. Follow the latest updates here.
Read more
His defining achievement
was as one of the key architects of the Oslo peace accords
, for which he was jointly awarded the Nobel peace prize with the then Israeli prime minister, Yitzhak Rabin, and Yasser Arafat, the chairman of the Palestine Liberation Organisation.
Peres's death was formally confirmed on Wednesday morning by his son Chemi in a news conference at the hospital where his father had been treated.
"Today with deep sorrow we bid farewell to our beloved father, the ninth president of Israel," he said. "Our father's legacy has always been to look to tomorrow. We were privileged to be part of his private family, but today we sense that the entire nation of Israel and the global community share this great loss. We share this pain together."
Reports in the Israeli media said that the former president's coffin will lie in state in the Israeli parliament, the Knesset, on Thursday ahead of his funeral on Friday.
Within hours of his death, tributes to Peres began from world leaders. In a statement, President Barack Obama described him as "the essence of Israel itself".
He added: "As Americans, we are in his debt because, having worked with every US president since John F Kennedy, no one did more over so many years as
Shimon Peres
to build the alliance between our two countries – an unbreakable alliance that today is closer and stronger than it has ever been."
Former president George HW Bush also praised "his unyielding determination and principle". "
Shimon Peres
time and again helped guide his beloved country through the crucible of mortal challenge."
Former president Bill Clinton and Democratic presidential nominee Hillary Clinton said they had "lost a true and treasured friend" following news of the death. The Clintons said Israel had lost a leader "who championed its security, prosperity and limitless possibilities from its birth to his last day on Earth".
They called him "a genius with a big heart who used his gifts to imagine a future of reconciliation, not conflict".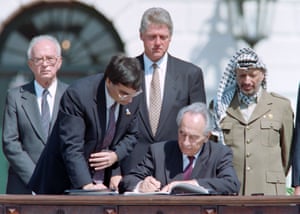 Peres signs the Oslo accords in a ceremony at the White House in Washington, watched by Yitzhak Rabin, Bill Clinton and Yasser Arafat. Photograph: J David Ake/AFP/Getty Images
Canada's prime minister, Justin Trudeau, said: "Shimon Peres was, above all, a man of peace and a man dedicated to the wellbeing of the Jewish people" who he said was "was devoted to promoting understanding between his country and its neighbours, and shared a
Nobel peace prize
for his efforts to create peace in the Middle East".
Peres was rushed to hospital on 13 September after he reported feeling ill. After several tests he was diagnosed as having had a stroke.
The last surviving figure associated with the founding of modern Israel, Peres's life story tracked many of the most important moments in the country's short history, which saw him move from being a hawk to a peacemaker – a legacy that substantially unravelled in recent years, to his dismay.
Long a deeply divisive figure in Israeli politics, in later life Peres became one of the country's most popular public figures, serving a seven-year term as president from 2007-14.
"In his people's eyes he ceased to be a politician. He became an historic figure, larger than politics, larger than everyday affairs, a figure in a league of his own," the Yediot Ahronot columnist Nahum Barnea wrote shortly after he became ill, in one among many retrospectives of his long career.
Advertisement
Even after his presidential term ended, Peres remained a high-profile figure who continued to make interventions on the country's political direction and sought to maintain an active schedule, particularly through events related to his
Peres Centre for Peace
.
As recently as last year, Peres strongly criticised the direction of the government of Israel's rightwing prime minister, Benjamin Netanyahu, although he did not name Netanyahu directly.
Peres said he believed the values he and Rabin, who was assassinated in 1995, had inherited from Israel's founding father, David Ben-Gurion, were in jeopardy as he defended a two-state solution to the Israeli-Palestinian conflict.
"Israel should implement the two-state solution for her own sake, because if we should lose our majority, and today we are almost equal, we cannot remain a Jewish state or a democratic state.
"That's the main issue, and to my regret they [the government] do the opposite."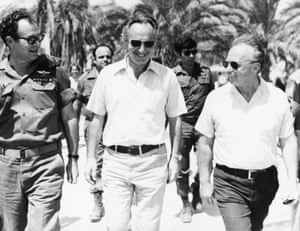 Mordechai Gur with Peres and Rabin during a tour of the Egyptian front during the six-day war in June 1967. Photograph: Keystone/Getty Images
Born in Wiszniewo, Poland, Peres emigrated to British Mandate Palestine in 1934 at the age of 11, was a founder of the Labour-Zionist Youth Movement and a member of the Hagana Jewish military forces before Israel declared independence.
As a defence official in the late 1950s and early 1960s, Peres was involved in the establishment in Dimona of Israel's nuclear reactor, the facility also at the centre of Israel's nuclear weapons programme.
During a decades-long career, he occupied almost every significant position in Israeli political life. His first role was as director general of Israel's Ministry of Defence in his 20s, as a protégé of Ben-Gurion, involved in the secret planning of the Suez offensive with Britain and France in alliance against Gamal Abdel Nasser's Egypt.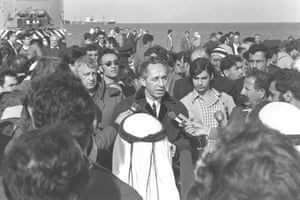 Peres, as transportation minister, with Southern Command's Gen Ariel Sharon at the opening of a new pier at the Palestinian port in Gaza City in 1972. Photograph: Handout/Getty Images
First elected to the Israeli parliament, the Knesset, in 1959, his cabinet roles included the defence, finance and foreign affairs portfolios before he served two brief periods as prime minister. Although he ran for prime minister five times between 1977 and 1996, he never won a national election outright.
A noted hawk in the 1970s who had deep reservations about territorial compromise with the Palestinians and supported settlement building and the building up of Israel's military strength, by the 1980s he had begun to move from the centrist political position he occupied towards the peace camp.
In 1994, while foreign minister, he won the Nobel peace prize jointly with Rabin, the then prime minister, and Arafat for their role in negotiating the Oslo accords, which envisioned an independent Palestinian state.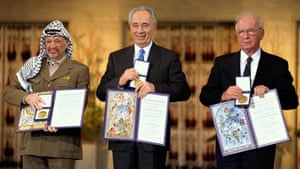 Arafat, Peres and Rabin with their Nobel awards in Oslo, Norway, in 1994. Photograph: Israeli government/EPA
Peres had had several health scares this year and was admitted to hospital twice because of heart problems. In the first case, the hospital said he had suffered a "mild cardiac event" and underwent catheterisation to widen an artery. He was rushed to hospital again just days later with chest pains and an irregular heartbeat.