One million phones to be sent back as US regulators blast the company for not coordinating with authorities.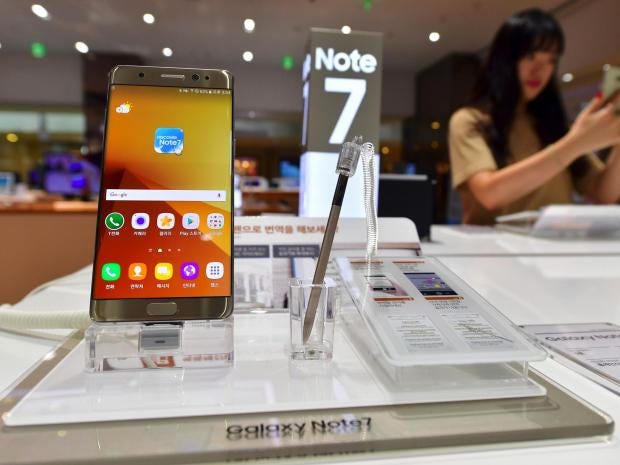 Samsung has suspended sales of its latest high-end smartphone Galaxy Note 7 after reports of exploding batteries Getty Images
US authorities officially recalled one million Samsung phones on Thursday after dozens of the devices blew up.
Samsung had previously issued a voluntary recall of the flaming phones, but US regulators have now taken matters into their own hands, after almost 100 cases of the phones catchinng fire, causing injuries and destroying property
"Because this product presents such a serious fire hazard, I am urging all consumers ... to take advantage of this recall right away," said Elliot Kaye, chairman of the US Consumer Product Safety Commission.

READ MORE
Samsung's battery debacle and a recent history of exploding batteries


Kaye blasted Samsung for not coordinating with his agency. "As a general matter it's not a recipe for a successful recall for a company to go out on its own," he said.

Regulators told consumers on Thursday that consumers should immediately turn off and stop using the recalled devices.

"Anybody who thinks that a company going out on its own is going to provide the best recall for that company, and more importantly for the consumer, needs to have more than their phone checked."

Samsung had previously offered to replace the faulty phones but will now offer the choice of a replacement or a full refund.

Exploded Samsung Galaxy Note 7 - in picture

The scale of the recall is unprecedented for Samsung. The world's largest smartphone maker has sold 2.5 million Note 7's globally, including a million in the US. It represents a costly setback for the company which had been counting on its flagship device to compete with Apple's new iPhone 7. Instead Samsung is left with a worldwide marketing disaster and a $1 billion bill.

By contrast, Apple yesterday sold out of its new phone, which was launched this month to rave reviews.

Samsung has received 92 reports of the batteries overheating, including 26 reports of burns and 55 of property damage. One family said a Galaxy Note 7 left charging in their Jeep had caught fire, destroying the vehicle.

Earlier this week, US aviation safety officials told airline passengers to turn the phones off during flights.


Tim Baxter, president of Samsung Electronics America, then apologised to consumers. "We did not meet the standard of excellence that you expect and deserve," he said in a video on the company's website.

Critics say Samsung's broke rules by not coordinating the recall with authorities but Baxter claims his company notified the commission before it announced it would stop selling the phone. When news of the explosions broke, the company pledged to replace any Note 7 phones within a week but press releases didn't tell consumers to stop using the device.

Samsung's statements left many customers confused, said Tuong Nguyen, a tech industry analyst with Gartner, "and that might have an impact on overall consumer confidence, especially since we're talking about a high-end device, their flagship phone."


Brooklyn office worker Joe Franco said he was frustrated, especially after getting conflicting information from his network operator, about how to get a replacement.

"I love the phone. It's an excellent phone. But I'm scared it's going to explode," said Franco. The 23-year-old said he's currently using an old phone borrowed from a friend, which he said was "really impractical."

Samsung said Note 7 owners who don't want a refund can choose to get a new Note 7 — which will be available next week — or the smaller and cheaper Galaxy S7 or S7 Edge with a refund of the price difference.