So, after 50 games, the 2016 UEFA European Championship will essentially come down to a rerun of last season's Champions League final.
Once again it will be Real Madrid's Cristiano Ronaldo taking onAtletico Madrid's Antoine Griezmann.
On that night in Milan at the end of May, it was Ronaldo who held his nerve. Despite a disappointing overall performance, he converted the winning penalty to win Real their 11th European Cup, while Griezmannhad to endure the pain of missing a crucial penalty during normal time.
Six weeks later Ronaldo and Griezmann will meet again to decide the destiny of Euro 2016.
Of course there will be 20 other players on the pitch, and 24 more on the bench, but the inescapable thought is this final will be decided by who from Ronaldo and Griezmann seizes the moment.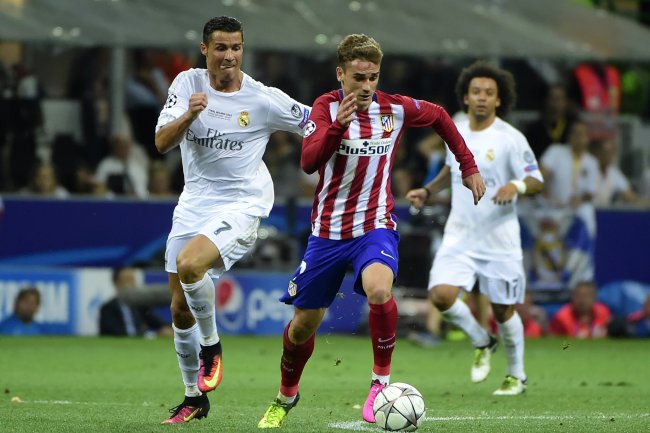 OLIVIER MORIN/Getty Images
The prize for Griezmann tonight is so much more than just the European Championship; it is to secure his status as one of the world's greatest players alongside Ronaldo and
Lionel Messi
.
The Frenchman has had a sensational tournament, but finishing it as a losing finalist would take the sheen off the last few weeks, while winning it would automatically give him access to the roped-off area reserved for the very best.
This is not Griezmann's Toto Schillaci moment from the 1990 World Cup, where an unheralded player suddenly has a great tournament, he has been building towards this for years.
In the last two seasons, he has flourished at Atletico, scoring 57 goals, and inspired them to do battle with Real Madrid and Barcelona in La Liga.
No one who saw him perform in the latter stages of the Champions League should be surprised that he has continued this form at Euro 2016.
Griezmann took Atletico to the final, scoring twice against reigning champions Barcelona in the quarter-final second leg before scoring with a wonderfully calm finish in the semi-finals against BayernMunich.
It was therefore somewhat cruel that Griezmann should then miss a penalty in the final, but he has shrugged off that disappointment with his performances at Euro 2016.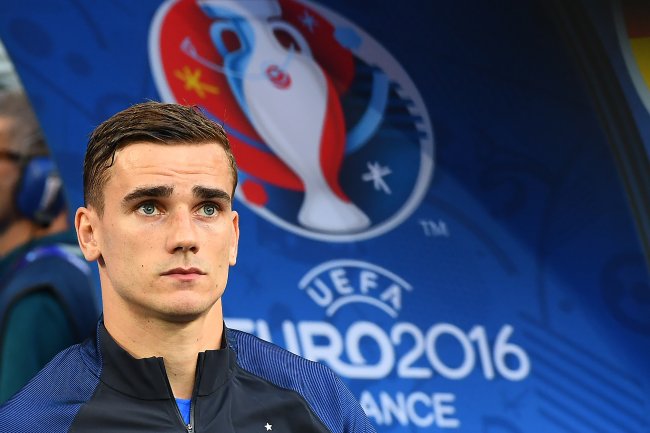 FRANCK FIFE/Getty Images
Griezmann began the tournament with a solid, if unspectacular international record of seven goals in 27 appearances, but he has since transformed it with six goals in his next six games over the last month.
France needed a hero, a player to stand up for them, and, asGriezmann has
said
, also spread some happiness among a nation scarred by recent terrorist attacks.
And he has been an absolute joy to watch, playing with confidence and fluidity, linking together the French attacks, driving at opponents with his surges of pace and, of course, being supremely clinical in front of goal.
We have long wondered which player would end the Ronaldo-Messi monopoly of the Ballon d'Or, which has lasted since 2008, and if he was to guide France to a Euro 2016 triumph by winning the Golden boot, it might just be Griezmann.
But of course one man stands in his way, Ronaldo himself, who would surely be summoned to Zurich to collect his fourth Ballon d'Or if he was to become a European champion for both club and country in the same year.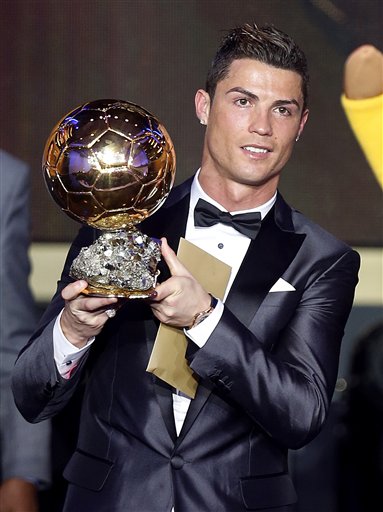 Michael Probst/Associated Press
We have not seen Ronaldo at his very best at this tournament, maybe that simply isn't possible surrounded by the lesser mortals in the Portugal side, but that still hasn't stopped him dragging them all the way to the final.
Portugal stumbled through the group phase, drawing all three games, and they then needed a goal in extra time to defeat Croatia in the round of 16 and a penalty shootout win to overcome Poland in the quarter-finals.
The semi-final win over Wales was their first, and so far, only win in normal time.
The story of that game revolved around the Welsh fairy tale, but you always had a strong sense that Ronaldo would bring it to an end in Lyon.
The moment was too big for Ronaldo to let it pass him by, and so in the second half he leapt to what appeared an impossible height to head Portugal in to the lead, and minutes later crossed for Nani to poke the ball home and secure a place in the final.
France have the better players, they have scored more goals and conceded less, they have beaten Portugal in each of their last 10 games and they will have an expectant nation fully behind them inside the Stade de France.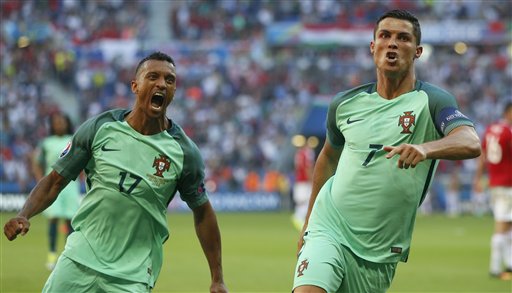 Darko Bandic/Associated Press
And yet all of that might not be enough to stop Cristiano Ronaldo, who will know that winning on Sunday night would be the greatest moment of his career.
Leading this modest Portugal side to their first-ever win at a major tournament would trump anything he has achieved with Manchester United or Real Madrid.
It won't have escaped Ronaldo's attention that Messi has never won a major international tournament with Argentina, and he failed again this summer.
The endless chatter about who is the better of the pair has become tiresome, enjoy them both, but Ronaldo would cherish securing a useful bargaining chip in the debate, and achieving something that has always eluded his rival.
The European Championship is a fine prize in itself, but Griezmann and Ronaldo both know there is a lot more at stake for each of them tonight in Paris.