Full time: Portugal 2-0 Wales; Cristiano Ronaldo ends Wales fairytale to put Portugal in Euro 2016 final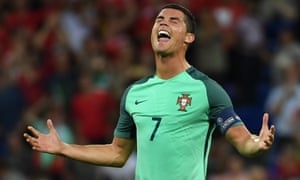 Cristiano Ronaldo of Portugal celebrates their win at the end of their semi final match against Wales. Photograph: Filip Singer/EPA
Cristiano Ronaldo and Nani scored in quick succession after half-time to give Portugal a 2-0 win over Wales in the Euro 2016 semi-final in Lyon, Portugal will go into Sunday's final, their first in a major tournament on foreign soil.
Here's Gareth Bale "We're massively disappointed but we've got to be proud of ourselves. We've given everything. We tried to enjoy the experience. We want to thank the fans, who have been incredible. We tried our hardest and we're sorry we couldn't get to the final. They shut up shop quite well. We have no regrets. We have to be proud of what we've achieved."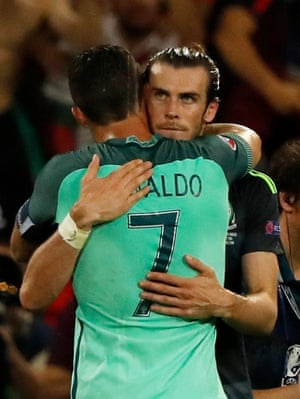 Club team-mates Cristiano Ronaldo and Gareth Bale hug. Photograph: Abedin Taherkenareh/EPA
Wales did not do a lot wrong in that game, but they missed Aaron Ramsey and they were powerless to stop the best player in the world changing everything with a brilliant goal just after half-time. Ronaldo and Bale have a long chat at the final whistle, before embracing and going their separate ways.
See Live Update Here:
The Guardian