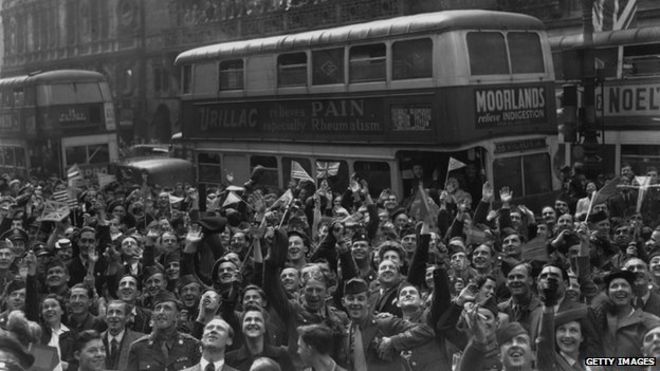 Events across the UK and the rest of Europe this weekend will commemorate the 70th anniversary of VE Day - the end of World War Two on the continent.
A two-minute silence will be held at London's Cenotaph on Friday to mark the moment Winston Churchill announced that the war with Germany was over.
And on Friday evening, more than 200 beacons will be lit around the UK.
There were street parties across the UK when Germany surrendered on 8 May 1945, bringing to a close six years of war.
On that occasion, Buckingham Palace was lit up for the first time since 1939, and years of blackouts were broken with a giant 'V' symbol projected into the sky above St Paul's Cathedral.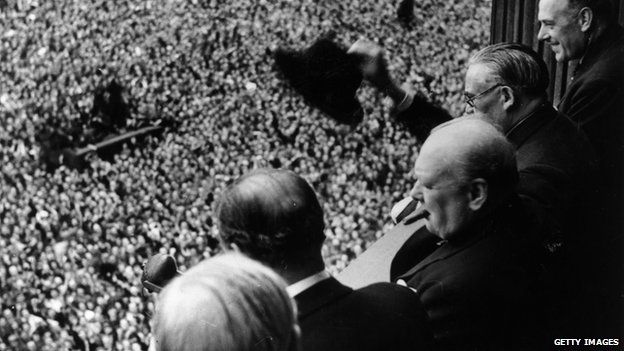 The Queen - who as Princess Elizabeth waved to the crowds on VE Day from the balcony of Buckingham Palace, alongside her parents King George VI and Queen Elizabeth - will attend a service of thanksgiving on Sunday at Westminster Abbey.
After the service, veterans and serving members of the armed forces will parade along Whitehall, past the Treasury balcony from which Churchill delivered his historic address.

What was VE Day?

VE Day held on 8 May, 1945, celebrated the end of war in Europe
The British government had been planning the celebration from late 1944. The code word 'MOUSETRAP' alerted ministers when VE Day was imminent
Bunting was taken off rations, pubs stayed open late and searchlights were used to light public monuments
Churchill broadcast to the nation at 3pm from Whitehall. Listeners later heard their first weather forecast since war had begun

As well as remembrance ceremonies, street parties and concerts will be held around the UK to recreate the spirit of celebration that defined the day.
The biggest will be a concert at St James's Park on Saturday, where musical acts including Pixie Lott and Status Quo will perform wartime songs and actors John Simm, Julia Sawalha and Laurence Fox will give readings.



The Royal British Legion, which has worked with the government to prepare the commemorations, will host a reception for 2,000 veterans at the park.
Hundreds of smaller community events have been planned across the country after schools and local authorities were encouraged to take part.

James Robbins, BBC diplomatic correspondent
"We may allow ourselves a brief period of rejoicing," said Winston Churchill on VE Day. His words will be heard again on Friday, 70 years on, read by his great-grandson Randolph.
VE Day marked the final defeat of Hitler and the Nazis and the end of the war in Europe, but it was not the end of World War Two. It would take another three months to achieve Japanese surrender.
I was reminded of the mixed emotions of VE Day by veterans we have talked to over the past few days: a fighter pilot who threw his Hurricane into a barrel roll of joy when he heard the BBC announce victory in Europe over his cockpit radio; a gunner in the Royal Artillery who will be at the Cenotaph to remember very close friends that didn't return; and a civilian firewoman who joined in the partying with her Brigade in Gloucester even though her war was far from over - her husband was still fighting in Burma.
Those feelings will be reflected this weekend in a huge range of events - some sombre and reflective, others joyful and celebratory.

In France, where VE Day is a national holiday, President Francois Hollande will lay a wreath at the tomb of the unknown soldier.
There will be a ceremony in Germany where President Joachim Gauck will lay a wreath at a cemetery for for Soviet soldiers.
Russia, which lost more citizens to the war than any other nation, is holding a Victory parade on Saturday in Moscow's Red Square.
The UK, US and Germany have declined to send a representative in protest at Russia's actions in Ukraine.
The Netherlands marked its own liberation day on Wednesday, paying special tribute to the Canadian forces that overcame the Nazis in the country.
Source: bbc.com