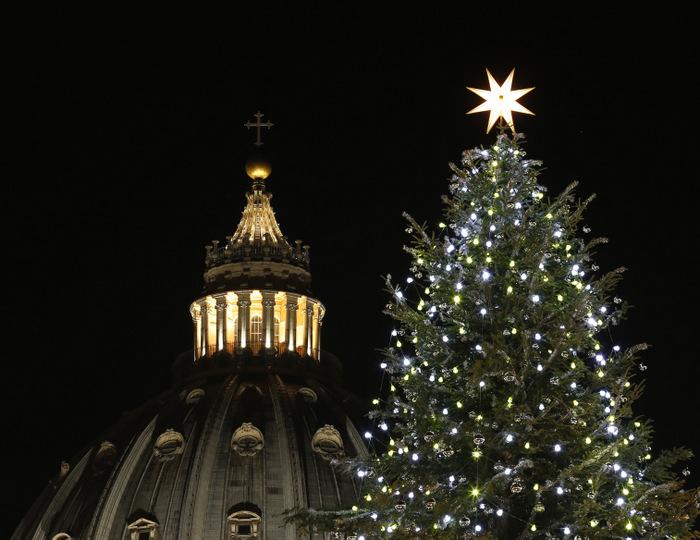 The
Christmas tree lighting ceremony in St Peter' Square officially marks the start of Christmas at the Vatica
n. In fact, the colors chosen to decorate it this year are those of the Vatican flag, white and yellow.
The Christmas tree in St. Peter's Square was illuminated on Friday, December 19, in a brief ceremony led by Cardinal Giuseppe Bertello, the president of the Vatican city-state governorate.
The enormous fir tree, brought to Rome from the Calabria region, was strung with new LED lights, which will save energy. The same sort of LED lighting had been installed along the facade of St. Peter's basilica, and at the conclusion of the Friday ceremony, those lights were also switched on, by Cardinal Angelo Comastri, the archpriest of the basilica.
The day's ceremony also included the unveiling of the giant creche in St. Peter's Square. The nativity scene, featuring larger-than-life-sized figures, was provided by the province of Verona.
Watch Video:
For many years the tradition of putting up a Christmas tree was hardly followed in Italy, but in 1982 Pope John Paul II had a tree put up in the square, bringing the Polish tradition firmly into the Vatican. Since then, many different countries and regions of Europe have taken turns in donating a tree to the Pope.
This year's tree, which is 70 years old, was donated by the southern Italian region of Calabria, which Pope Francis visited in June of this year.
In his encyclical "Lumen Fidei" Pope Francis used the image of the branches of a tree to illustrate the spreading of faith out from God into the world.
The tree stands 25.5 metres tall, weighs 8 tons and has what's known as a twin trunk, that is to say that two separate trunks have fused together to form a single tree trunk. This feature is also used symbolically, to show that man is never alone on his journey through this life, but is always joined by the Lord.