Get link

Facebook

Twitter

Pinterest

Email

Other Apps
Original Post By http://www.naij.com/
A Special Adviser on Media and Publicity to President, Reuben Abati, published an abstract from secret documents in his Twitter, exposing the information from Wikileaks about Buhari's 1983-84 governing years.
The information is provided by the Public Library of United States Diplomacy through Wikileaks.
The exposed classified letter is dated September 20, 2002. It reads in part:
Like President Obasanjo before the 1999 election, General Buhari's political experience is limited to that of military Head of State. Buhari came to power as a result of a 1983 New Year's Eve coup against the democratically elected Shehu Shagari. The eviction of Shagari came as a welcome relief as did Buhari's promise to root out corruption. That relief, however, was short-lived as Nigerians watched despairingly as the Buhari regime's promises to revive the economy and wipe out rampant corruption withered during 20 months of heavy-handed, largely ineffective rule.
In May 1984, Buhari ordered the brutal expulsion of 700,000 illegal immigrants from neighboring African states, jailed hundreds of political opponents and muzzled a once aggressive press. His loyalty to the military also came into question as he dismissed 30,000 soldiers as a cost-cutting measure. Buhari also soured Nigeria's relations with Britain, when he was accused of masterminding a clumsy and unsuccessful attempt in July 1984 to kidnap President Shagari's brother-in-law, former Transport Minister Umaru Dikko. Moreover, Buhari undermined traditional rulers throughout Nigeria, slashing their benefits and questioning their authority.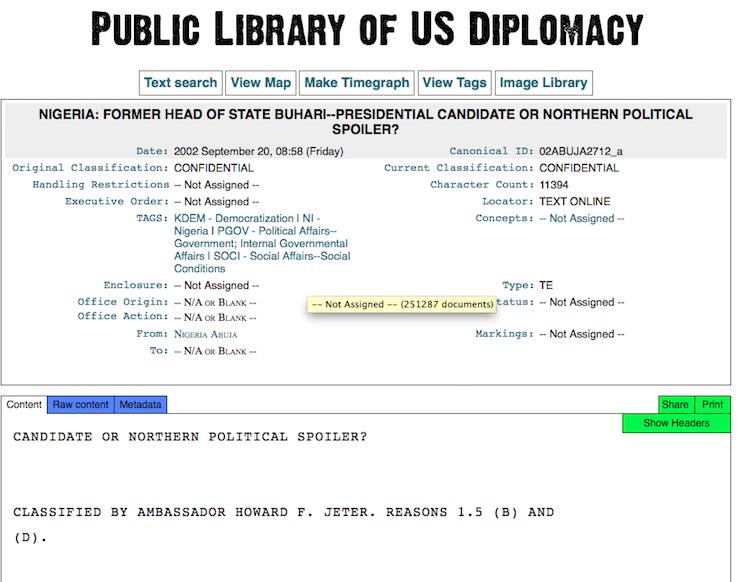 "Buhari: Candidate or Northern Presidential Spoiler? Wikileaks US Diplomatic Cable
http://
bit.ly/1yYNVcP
" hehehe...
WikiLeaks is an international, online, non-profit, journalistic organisation which publishes secret information, news leaks and classified media from anonymous sources. Its website, initiated in 2006 in Iceland by the organization Sunshine Press, claimed a database of more than 1.2 million documents within a year of its launch.
Get link

Facebook

Twitter

Pinterest

Email

Other Apps